About The Aspen Fire Department
Our Mission Statement
"Protect our community and environment by providing education, prevention, and response through professional excellence!"
Our Values
PEOPLE- We value above all else
-
SAFETY- Because we value people
BALANCE- We recognize the importance of work-life balance
INTEGRITY- Honest actions, open communication
COMPASSION- In serving those in need
RESPECT- For our community, our neighboring agencies, each other, and ourselves
GROWTH- As an organization, as a team, and as individuals
FORWARD-THINKING- Oriented towards the future
Our Vision
We will encourage and support excellence in leadership, industry advancement, and service.
We will provide effective and professional service and response.
We will value teamwork and open communication with our internal and external partners as the foundation for everything we do.
We will honor our families and will act with respect and integrity in all situations.
Welcome Letter From the Aspen Fire Chief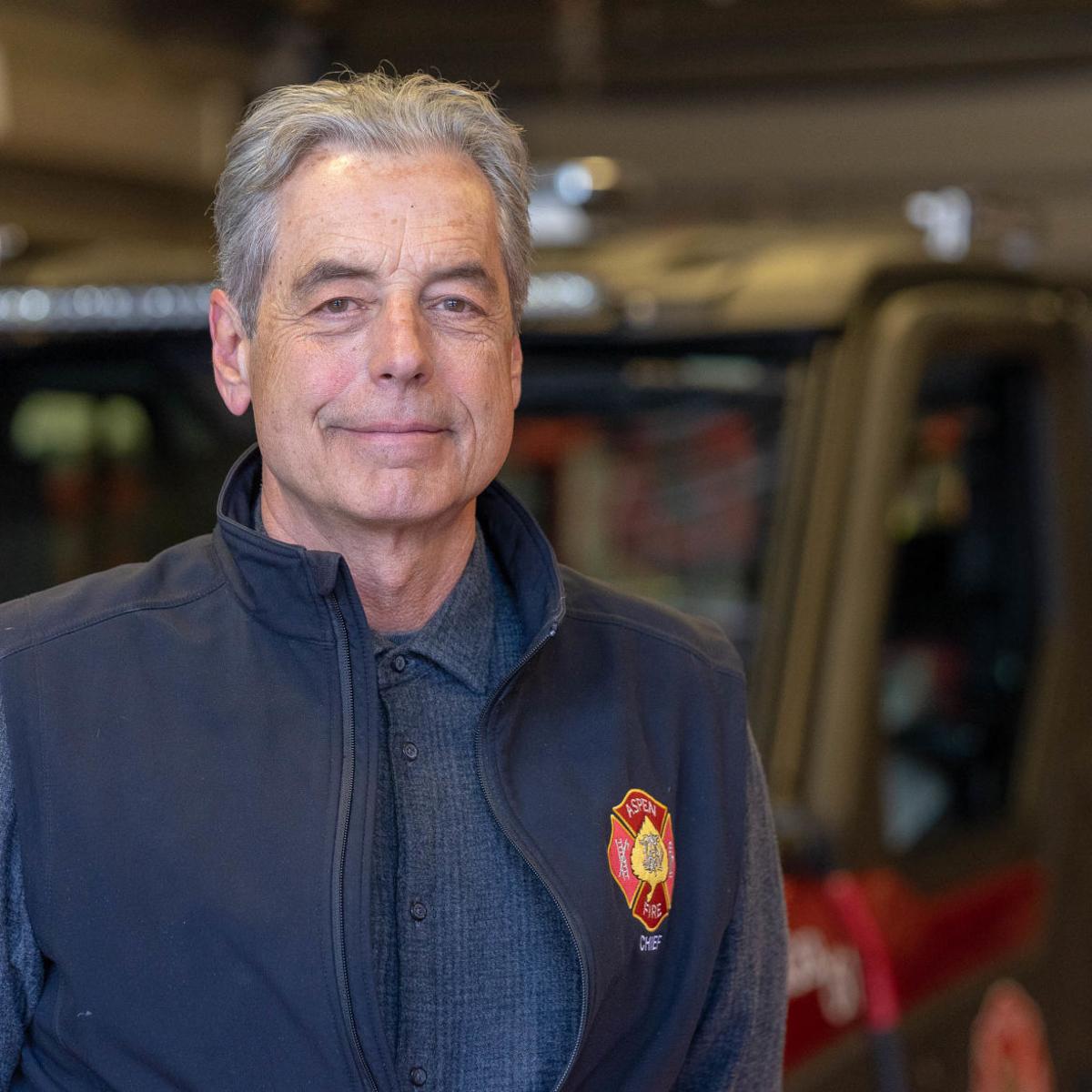 On behalf of the Aspen Fire Protection District, I would like to thank your for visiting our web page. Aspen Fire is comprised of 43 dedicated career and volunteer, emergency service professionals, all of whom are highly capable and proud to serve our wonderful community and our many visitors. Inside the Aspen Fire Protection District boundaries exist some of the most beautiful 87 square miles of the Colorado Rockies, the idyllic city of Aspen, the unique community of Woody Creek and many wonderful neighborhoods. Aspen Fire serves approximately 10,000 full time residents, with this number swelling to approximately 30,000 during peak tourist seasons.
The highly dedicated and skilled women and men of Aspen Fire are a combination of professional volunteer and career firefighters and staff, all of whom who work diligently to achieve the highest levels of preparedness, prevention, quality customer service and community involvement through continuous improvement and training. The members of Aspen Fire are all driven by the same shared goal of providing the most up-to-date and thorough service to anyone who may call upon our organization or services at any time.
We have a proud heritage of serving the Aspen community for almost 140 years and will continue to do so for many years and decades to come. We take great pride in our beautiful community and are committed to doing our part to ensure the safety of our residents and visitors through progress foresight and constant mindfulness. On behalf of the men and women of the Aspen Fire Protection District, I invite you to browse through our Website and welcome you to visit our headquarters station next time you might be in the neighborhood.
Warmest Regards,
Rick Balentine, Aspen Fire Chief
District
The Aspen Fire Protection District serves 87 square miles in Pitkin County. It encompasses the Town of Aspen, and several unincorporated areas such as Woody Creek, Aspen Village, Brush Creek and Starwood.
The Aspen Fire District is staffed by a combination of career and volunteer members who are state certified to handle diverse emergency calls. The district is comprised of geographically different areas ranging from downtown Aspen to sparse residential and mountainous terrain with significant wildland-urban interface, each having different suppression and rescue requirements. Those requirements are met with a multi-faceted line of apparatus, equipment, and training.
Our Services
The Aspen Fire Protection District provides emergency and non-emergency services throughout Aspen, Colorado and the surrounding areas.
This includes 24-hour emergency response to a wide variety of critical situations, including structural, wildland, and urban interface fires, explosions, hazardous materials incidents, medical emergencies, accidents, auto extrication, swiftwater rescue, ice, low-angle rope, trench, confined space rescue, and miscellaneous public assistance requests. In addition, the fire department has the capability to respond to emergency medical needs, including basic life support.
The department also operates active fire prevention and emergency preparedness programs which provides for fire inspections, hazardous process permitting, burn permits, fire code enforcement, community education, and business emergency planning in accordance with Colorado laws.
Each year the Aspen Fire Protection District spends over 4,000 hours completing hands-on training activities, which build important practical skills and provide each firefighter with the abilities needed to quickly and correctly respond to all types of emergency situations.
Our History
"Put the Wet Stuff on the Red Stuff"
In 2004 the Aspen Fire Protection District produced this 48-minute documentary on the history of the Aspen Fire Department and it's evolution through the years.
The AFD traces its roots back to the silver boom days in Aspen. In 1881 the town devoted $200.00 to provide a fire department.
Written by Ben Gagnon, narrated by Jimmy Ibbotson, and produced by Darryl Grob, this film provides a glimpse into this extraordinary organization.
The documentary can be viewed only by clicking on the following link.
DVDs are also available for purchase through the Fire District Office for $20.00 plus shipping. Contact (970) 925-5532 for information.
Become a Volunteer
Interested in volunteering? Click the link below to learn more and apply!